As the fall season gets into full swing, it's the perfect time to start thinking about pampering our furry friends. And what better way to show our love than by buying some festive gifts for our Yorkies? Yorkies deserve to be spoiled with autumn-themed gifts that are as cute and stylish as they are. 
From cozy sweaters to fall-themed accessories, the options are endless for finding fall gifts for our beloved pets. Not only will these gifts keep them warm and comfortable during the cooler months, but they will also make them the most fashionable dogs on the block.
So, whether you're looking for a new wardrobe addition or a stylish accessory, there's no shortage of delightful options to choose from. The Yorkies Times has some ideas for fall gifts for Yorkies to make this season one to remember for both you and your furry companion. 
Fall-Themed Yorkie Collars
Buying a fall-themed collar for your furry friend can be a great idea. With the changing leaves and crisp air, a collar that embodies the essence of this season can enhance your Yorkie's cuteness factor. There are plenty of options available when it comes to fall-themed collars, from ones with leaf patterns to those with pumpkin or apple designs.
You can also find collars with warm colours like red, orange, and brown, which will perfectly match the autumn scenery. Some fall-themed collars may feature adorable accessories like bows or flowers, adding an extra touch of charm to your Yorkie's appearance.
Investing in a fall-themed collar for your Yorkie not only adds a festive touch but also allows your furry friend to be part of the seasonal spirit. So go ahead and browse these examples to find the perfect fall-themed collar for your Yorkie, and watch them strut their stuff in style this autumn.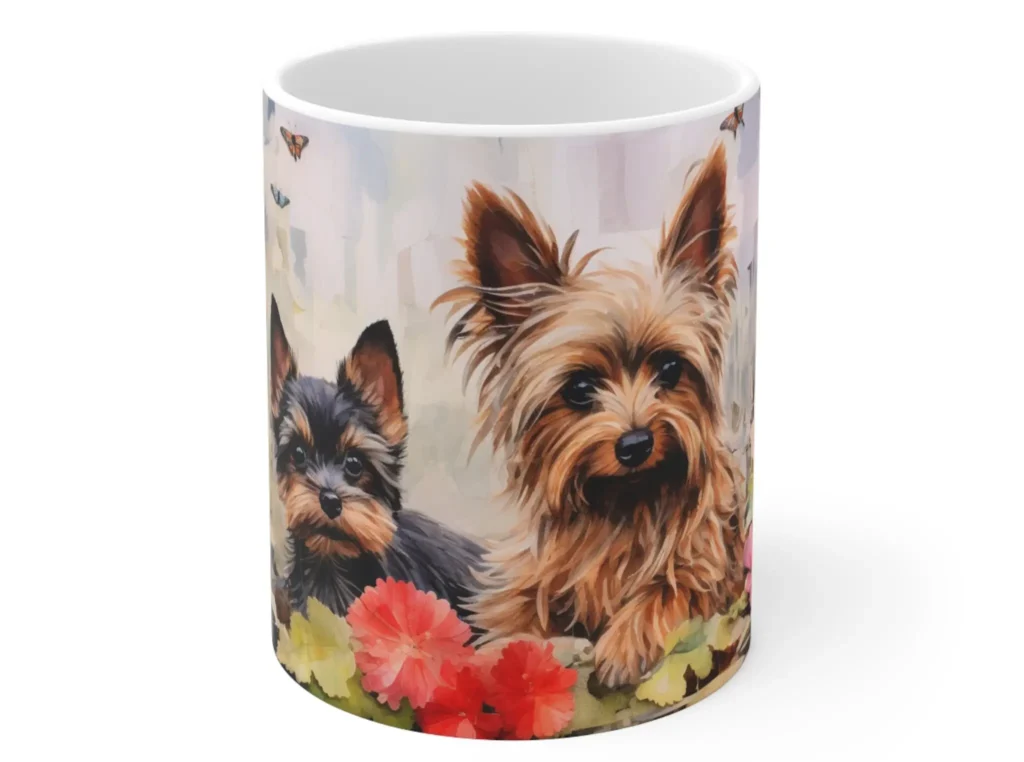 Check Out Our Watercolor Yorkshire Mom and Puppy
Stylish Fall Leashes
It's time to embrace the beauty of fall in every aspect of our lives, including our pets. Why not celebrate the season by buying a fall-themed leash for them? Not only will it add a touch of style to your furry friend's walk, but it will also make them stand out amongst the sea of dogs during those autumn strolls.
Imagine taking your Yorkie for a walk, the colourful leaves crunching beneath their paws, and their adorable fall-themed leash complementing the surroundings. It will surely draw the attention and admiration of fellow dog owners and passersby.
A fall-themed leash can serve as a great conversation starter and a way to connect with other pet owners who share the same love for the season. So, treat your Yorkie to a leash inspired by the warm hues of fall and make their walks even more enjoyable during this beautiful time of the year. 
Keep Your Yorkie Warm with a New Jacket
Colder weather is just around the corner. As the temperature begins to drop, it's important to keep our furry friends warm and comfortable. One way to do this is by buying a jacket for your Yorkie.
Yorkies have a thin layer of hair, which doesn't provide much protection against the cold. A jacket specifically designed for small dogs can provide the necessary protection they need. Look for a jacket made of warm and waterproof material to keep them dry and cozy on rainy days. It should also have a snug fit to ensure it stays in place during outdoor adventures.
With the right jacket, your Yorkie can continue to enjoy their outdoor time without any discomfort. So, go ahead and invest in a stylish and practical jacket to keep your furry friend snug and fashionable this fall. 
Get The Yorkie Times Newsletter delivered to your inbox!
Stand Out and Celebrate the Season
It's time to update your Yorkie's wardrobe with stylish accessories. From cozy sweaters to trendy bandanas, there are plenty of options to celebrate the changing season. Dressing up your furry friend in fall-themed accessories not only keeps them warm but also adds a touch of elegance to their overall look.
Consider investing in a plaid scarf or a matching hat that will instantly make your Yorkie look Instagram-worthy. Don't forget about their paws – cute little booties in autumn colours can protect their sensitive pads from the chilly weather. Embrace the fall spirit and show off your stylish Yorkie with these fabulous accessories. 
Costume Ideas for Yorkies
Halloween is a fun time for dressing up, not just for humans but also for our furry friends. Yorkies, with their small size and adorable faces, can pull off some incredible Halloween costumes. There are numerous ideas to make your Yorkie stand out at any Halloween party.
You could dress them up as popular movie characters like Yoda, Harry Potter, or even the iconic Minions. Alternatively, you can turn your Yorkie into a superhero by dressing them up as Superman or Batman. If you're feeling a bit more adventurous, you could transform your furry friend into a mythical creature like a unicorn or a dragon. Don't forget about the classic Halloween costumes like witches or pumpkins. 
Take a look at these popular costumes for some ideas this Halloween.
We hope these products will give you some ideas of how to spice up your fall season. As always, we are here to help with all things Yorkies. Want to contact us? Follow us on Facebook and join our community of fellow Yorkie lovers for any questions you are looking for the answer to.